GoFishOhio ~ All Your Ohio Fishing Info
GFO is your one stop for Ohio fishing. You'll find links to:
70 Ohio topographic fishing lake maps
Individual regulations on each (boating hp, etc.)
Fishing opportunities available
General location and directions
ODNR News and Notes
Special Offers on outdoor & fishing gear
Ohio Tournament Calendar (The X-Series, The Better Half Tour, more!)
Whether you like fishing the big waters of Lake Erie, or one of Ohio's many inland lakes like Mosquito or Portage Lakes, GoFishOhio.com keeps you current with lake and fishing conditions. Our Lake Maps offer contour details, boat ramp(s), restrictions, and species of fish swimming in the lake.
We appreciate you stopping by for a few minutes and hope we have helped get you to Go Fish Ohio!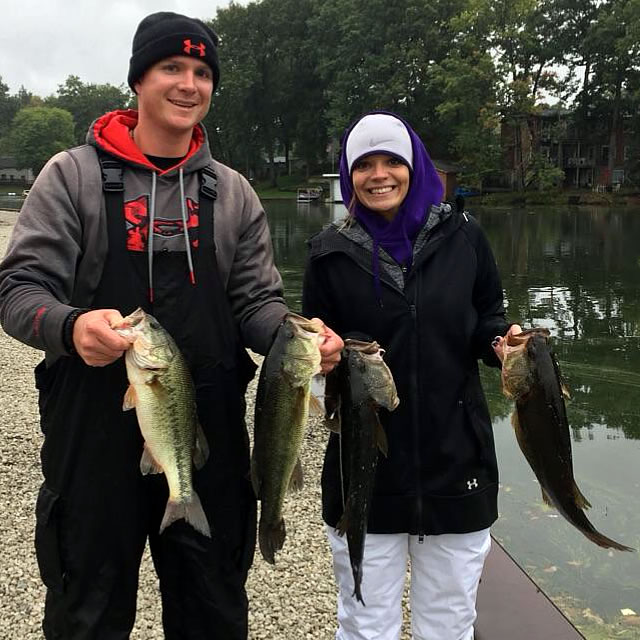 Congrats to Michelle Laughman & Jeff Johnson


Fall Classic CHAMPS & NEW Weight Record!
A very special THANKS to the Ohio Division of Natural Resources, the Division of Wildlife and the Division of Watercraft  for their hard work and dedication in providing Ohio sportsmen and women with safety and excellent fishing & hunting opportunities!
Turn In a Poacher (1-800-POACHER)
Ohio's Turn In a Poacher, or "TIP" program is helping to curtail poaching throughout the state, by involving the public in reporting wildlife violations. If you observe a wildlife violation, click here and submit the form online or print the form and mail it to:
TIP Headquarters, Division of Wildlife
2045 Morse Rd., Bldg G
Columbus, Ohio 43229-6693
Or call the TIP toll-free hotline, 1-800-POACHER.
FUN FISHING GAMES
If you love bass fishing, get on board with one or both of the following Fantasy Fishing games. They're fun, informative, FREE, and will also make YOU a more knowledgeable angler. And when it comes right down to it…..anybody can get 'em!
If you like to bass fish like we do, this is the series that started it all. Choose five anglers from five brackets and see how your picks stack up at weigh-in! FREE to join, click for more info.
A new twist this year, FLW Fantasy Fishing holds you to 10 anglers on a $200 budget. Sure, it sounds easy…until you need to pick four anglers with $7 left in your pocket! Good clean fun, and some serious prizes available for each event. FREE to sign up!
February 2016
Mon

Monday

Tue

Tuesday

Wed

Wednesday

Thu

Thursday

Fri

Friday

Sat

Saturday

Sun

Sunday

February 1, 2016

February 2, 2016

February 3, 2016

February 4, 2016

February 5, 2016

February 6, 2016

February 7, 2016

February 8, 2016

February 9, 2016

February 10, 2016

February 11, 2016

February 12, 2016

February 13, 2016

February 14, 2016

February 15, 2016

February 16, 2016

February 17, 2016

February 18, 2016

February 19, 2016

February 20, 2016

February 21, 2016

February 22, 2016

February 23, 2016

February 24, 2016

February 25, 2016

February 26, 2016

February 27, 2016

February 28, 2016

February 29, 2016

March 1, 2016

March 2, 2016

March 3, 2016

March 4, 2016

March 5, 2016

March 6, 2016